Basketball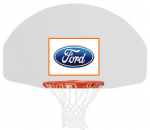 The pro ballers get some time off, but FERA Basketball plays all year long! Come exercise with us as the basketball clubs primary objective is to keep the league fun for all.
We have pick-up games being played every Wednesday night from 6:00-8:00 PM in Dearborn Heights. We charge $32/month to play. If you cannot commit for a month or want to just check us out for a week, you can also pay per night ($8/day). You must check with one of the club officers prior to playing to ensure a spot is available. There are usually spots available. For more information on pick-up ball.
Our club also runs an organized league, typically on Sundays. This is team based games with referees, schedules, playoffs etc. You can join as either a player or a team. We typically start a Fall league in early September, Winter league in early January, and Spring/Summer starting up in early May. Take the time to speak with your friends and determine how your team would best function. Please contact Dapo Adewusi (AADEWUSI) if you like to participate in this season.