Motorsports Club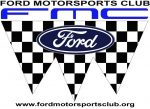 Club Name:
Motorsports Club
Description:
We are a division of the Ford Employee Recreation Association (FERA) and exist to give Ford Fanatics a place to come and enjoy all things Ford. We welcome anyone to the general membership whether you are associated with Ford Motor Company or just have a love of the products. We strive to provide an environment where anyone of any age can come and enjoy Motorsports with like minded people. Our events range from drag racing, karting, autocross, car shows, road rallies and whatever else our members enjoy. Regular meetings will be held during the months when we do not have events planned. Events and meetings usually take place on the third Thursday of every month, but check our calendar for any changes or updates.
Cost of membership starts at $15 for a single year and is discounted depending on the number of additional years you purchase. As a member, you will receive your official FMC membership card, decal, welcome letter and access to any and all club affiliated discounts with our business partners and sister clubs. You will also receive our quarterly newsletter and invitations to our annual summer picnic and Christmas party. Both events include dinner and are free to our members in good standing and their families!
If you have any questions, please don't hesitate to E mail. Thank you for visiting our website, I look forward to seeing you as a new member!